The panel was chaired by Nicky Regazzoni, Co-Founder, The PR Network & Mentoring Programme Lead at Women in PR and she navigated the panel through the subject of [agile, dynamic, flexitime, WFH, hybrid, multi hyphen, output-not-hours] flexible working…
Our passionate participants were:
Laurian Hubbard, Brexit Campaign Lead, Cabinet Office, Wales
Jennifer Thomas, Director of Internal Communications & Experience, Direct Line Group
Tiffany Guarnaccia, CEO, Kite Hill PR
Charlotte Budd, Director, Freuds
Asif Sadiq, Head of Diversity, Inclusivity and Belonging, The Telegraph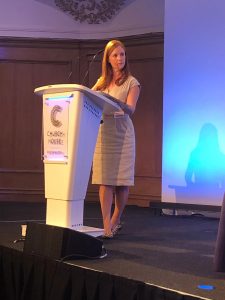 What the F?   A strong title for the Women in PR panel debate on the subject of flexibility.  The agenda slot was sandwiched between a rousing speech by KPMG's Jennifer Ogunleye representing the 'next generation' of PRs and the PRCA Diversity Council debating if Diversity should still be being debated at all.  An action-packed couple of hours with incredible energy, especially given the post-lunch timings.
Jennifer was one of PR Week's 30 Under 30 last year and as she closed her slot, she casually mentioned an expectation of flexible working. Standard.  A good reminder to the audience (who on the whole represented older generations: agency board members and in-house comms leads) that this is an issue, or opportunity, for everyone in the industry not just for working parents or mums.
Indeed, Women in PR chose flexible working as our topic because it fitted with the overall conference theme of 'next generation PR', in terms of recruiting, retaining and motivating the best people. But given our raison d'être, our mission, is to improve equality and diversity across the industry by increasing the number and diversity of women in leadership roles, the panel didn't shy away from the heart of the issue for women: lack of flexible working in practice or family-friendly policies  – both cited as barriers to women progressing into senior roles.
However, the same research[1] shows there is significant theoretical support of flexible working in the PR industry, as did the audiences' show of hands when asked if they were working flexibly. A WTF situation if ever there was one.
My key take-out from the debate is that the holy grail for all should be to have the space to thrive rather than merely surviving week to week…
And for panellists it came down to five things:
When it comes to flexibility, trust, accountability and responsibility are key ingredients to success.
The culture of the organisation. Regardless of what is on paper, if the CEO or your manager is all about presenteeism, genuine flexible working will be unlikely to be successfully available to all. Equally if you're a leader who does work flexibly – be proud of it and role model. Jo-ann Robertson (Ketchum CEO) has previously talked of 'leaving loudly' at 4pm. Don't just empower the few, make it a norm for all your people to have the choice to work flexibly.
…Choice! Not everyone wants to work flexibly or has the facilities out of the workplace to get their job done effectively. It should be about what's right for the individual and the team and being conscious that 'one size' is unlikely to fit all. Don't judge yourself by anyone's choices but your own.
If you're in an agency, don't hide behind clients demands for not making flexible working part of your culture. The panel cited an undeniable halo effect on employee satisfaction to client satisfaction. Get the infrastructure right and ensure that clients know what to expect. Clients can also support with encouraging flexibility for their agency partners. Be clear it's not just acceptable – it's welcome.
If you feel flexibility is something you want (for whatever reason) – find your way of making it work for your professional and personal needs and the organisation/s you're in. There will be a way and hopefully you'll be happier, more productive and fulfilled as a result.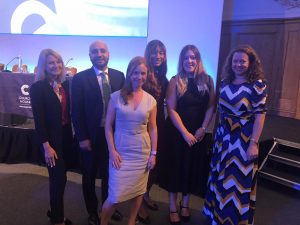 The panel suggested the Women's Business Council as a great place to start if this is flexible working is something you'd like to explore further. https://www.womensbusinesscouncil.co.uk/100-ways-to-work/
Back to the Jennifers… the generations coming up, absolutely expect flexibility in their working lives and if it's not a part of your culture, you'll miss out on the best talent.
[1] In May 2019 Women in PR conducted a piece of research with our partners Opinium to understand perceptions about the barriers to female seniority in PR. We surveyed 169 senior PR professionals (men and women) on a range of issues, and lack of flexibility was perceived as the main barrier.
Finally, join us on October 16th to hear from three decades of brilliant women in PR who are thriving in their careers for an honest account of their experiences. Their stories will be unearthed by remarkable hosts of Badass Women's Hour. It's going to be a no-holds-barred conversation and not to be missed.  https://www.eventbrite.co.uk/e/women-in-pr-x-badass-womens-hour-tickets-72685230481?aff=ebapi
With huge thanks to the PRCA for having us, Nicky for chairing and for our consummate panel members.  Binumi Pro (https://www.binumi.com/) kindly captured the panel in action and the video can be viewed here: