This week in our series of conversations recognising Black History Month we talk to Dorothy Burwell, Partner and Global Board Member at Finsbury, to get her take on diversity and inclusion within the PR/comms industry now and in the future.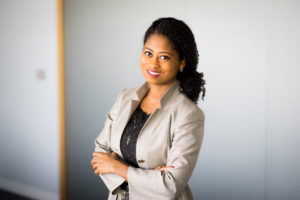 Do you think the industry has a diversity problem?
Yes and it's obvious when you look at the make-up of the industry. I think across the industry we don't reflect the wider population throughout London at all. The bigger issue, however, is what is driving this under-representation.
What steps do you think we need to take to make the industry more diverse?
I think there are three main things we need to do increase diversity in the industry:
The first is to increase awareness. We need to do a lot more to raise awareness of our field so that a more diverse group of people know about it. Most people that come into the industry are friends and family of people who already work within it, so we need to do more to make the industry more visible to people of diverse backgrounds.
Secondly, we need to increase representation within the industry. People from different communities need to look at us and see leaders that are representative of who they are so they can believe entering and succeeding in this industry is a possibility.
The third thing is changing the culture. We need to make sure that when individuals from diverse backgrounds enter the communications sector, they feel that they are valued and welcome. It is not enough to attract talent, they must feel that they belong so that we can address our retention issue as well.
Do you think brands should be talking about the importance of racial diversity and if so what are the best ways to address the topic?
In short yes – they need to do this but in both words and deed. Post the death of George Floyd there has been an increase in 'performative allyship'. Brands have said a lot and produced symbols to join the movement, but there is not a lot beneath the surface. They need to demonstrate how they are supporting an inclusive culture. Don't just tell us that you believe in equality, show us what you are doing to cultivate it. They need to show how they are encouraging education and open-minded dialogue around the issues of racism. With a conversation, that can take place without fear of judgement, we'll end up in the same cycle where issues are swept under the rug and not dealt with until the next tragedy.
If you could sum up the reasons behind your success in a few sentences what would they be?
Determination and sponsorship. There are things I can control – my work ethic and enthusiasm to learn – but I've also had great sponsors who gave me exposure and nurtured me. They have introduced me into networks that otherwise would have been closed to me and conversations that have helped me develop as a professional.
I think that everyone's network starts off as closed. People tend to socialise with the people they went to school or to university with and when do you really have an opportunity to open up those networks other than the workplace? It's important to be in the conversation. We need to blend our networks to cross-pollinate ideas.
What has been the biggest setback in your career and how did you overcome it?
Probably what I would have classed as the biggest setback I would now class as a blessing in disguise and that was when I took redundancy from my last career. I had to start with a leap of faith and it was great because I had a clean slate. I looked at it as an opportunity to start something else and 12 years later I'm still in the industry.
Can you recommend any schemes, programmes for young black women trying to enter the industry?
The Taylor Bennett foundation is one that we are big supporter of at Finsbury and we hire at least one intern from there every year.
WPP also does a summer accelerator programme to bring in diverse talent, which is great and it opens up the industry to a diverse group of university students in the year before graduation.
What would be your advice to young females keen to enter the industry?
I would say meet as many people as you can, learn from their mistakes so you don't have to make them.  Before I joined the industry I got in touch with my network of people so I knew what I was getting myself into.
Do you feel the Black Lives Matter (BLM) protests have started to trigger real change in the industry or are people just paying lip service to the issue?
The jury is out. I don't have a crystal ball to say whether real change will take place for the future but what it has done is it has opened the conversation on the real challenges that black people face. Hopefully that will be sustained but I think what will drive it more is client engagement and the strategic impetus to do something.
What are your thoughts about brands that faced backlash following BLM statements that did not correspond to their internal practices?
I definitely think companies all needed to say something but with the acknowledgement of the current state of play. I think it was in instances where brands didn't do that, where they met criticism. You can't pretend that you've always been on board and supported diversity if you haven't. Some companies have clearly done things that were difficult to defend, but that doesn't mean that they shouldn't be vocal. They may just need to take some time and think about a considered response – that doesn't mean wait three months because it doesn't take that long, but a statement does need to be reflective of your reality.