Women in PR announces six new committee members and pays tribute to the contribution of longstanding members stepping down

Women in PR welcomed six new members to its committee at its Annual General Meeting (AGM) last night making it the most diverse committee in its 58-year history.
Following a members' vote, the below were appointed to the committee:
Ngozi Emeagi, Global Media and PR Lead, MS Amlin
Jane Fordham, Founder, Jane Fordham Consulting Ltd
Addy Frederick, Group Communications Manager, Prudential plc
Charlie Mulock, Director, Hope & Glory PR
Sneha Patel, Senior Adviser for External and International Affairs – Mayor of London's office, City Hall
Natalie Trice, PR Director and Founder, Natalie Trice Consultancy and PR School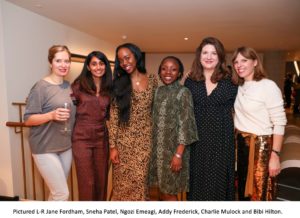 Blog editor and Group Head of External Communications at Lloyd's Register, Sarah Samee, steps into the Vice President role, succeeding Direct Line Group's Claire Foster after a three-year tenure.
Davnet Doran, Head of Brand PR at Britvic PLC, previously Deputy Treasurer, steps into the official Treasurer role as Global Women in PR's and independent consultant Nicola Hyde leaves the committee after five years.
The PR Network's co-founders George Blizzard and Nicky Regazzoni, have successfully led PR Week and Women in PR's flagship mentoring scheme since 2017, are stepping down and handing the reins to Anna Geffert, founder of Hera Communications Strategies and UK MD of WE Communications Ruth Allchurch.
Event Secretary and founder of the mentoring scheme, Jane Baerselman, Director at Teal Communications and committee member Ali Jeremy, Director of Marketing and Communications NSPCC also leave after several years on the committee.
Bibi Hilton, Women in PR President, said:
"I want to take the opportunity to say a huge thank you to Nicola, Claire, George, Nicky, Jane and Ali for the massive contribution they have made to Women in PR. Our committee volunteer their time on top of busy professional and personal lives and we are hugely grateful for the hard work and dedication they have given over a significant number of years.
"The departure of our longstanding members has provided the opportunity to bring in some new, fresh thinking with the introduction of Ngozi, Jane, Addy, Sneha, Natalie, and Charlie. I am thrilled they are joining the committeebringing with them a genuine passion to improve equality and diversity and a wealth of experience and knowledge on the issues and opportunities facing women in our industry today. I am looking forward to working with them to continue in our mission to enable more women to achieve leadership and progressing our new strategy."
Sarah Samee, Women in PR Vice President, said:
"When Ebony Gayle and I joined the committee in 2018 we were acutely aware that this was Women in PR's first step in publicly demonstrating its commitment to increasing the diversity of its network.
"Under Bibi's leadership, we have made every effort to show that Women in PR is not an exclusive club and it welcomes everyone, including men, to join our network and support our work in sharing expertise and encouraging more women to reach their full potential.
"The network was created almost 60 years ago for women in the industry to share experiences and support each other, often in relation to tackling discrimination.  Sadly, some of the barriers to career progression that plagued the industry back then still exist today. This is what makes Women in PR as relevant now as it was then. I am delighted to be taking on this new role and am excited for the future and what we can achieve together."
Since January 2019, Women in PR has grown its membership by 42% to a total of 339 members,
 Women in PR also updated on its activity and progress in 2019 at the AGM. This included putting on 12 events throughout the year, attended by over 600 people on topics including diversity in creative teams, the reality of leadership, mental health and resilience in leadership and a joint event with Badass Women's Hour on life stages. The group also launched Women in PR Cymru at the PRCA National Conference in September. Keynote speakers included BBC's Sally Bundock. The group also pioneered new research and activity on important industry issues including the barriers to senior leadership.
Additionally, Independent Consultant Alison Hicks was officially confirmed as Committee Secretary at the AGM following a special appointment last year, after Kat McGettigan, Head of Consumer PR at Grayling stepped down due to a move to Hong Kong. 
ENDS
Notes to editors: 
About WPR:
Women in PR is a not-for-profit organisation run by volunteers for women in the PR and Communications industry.  It is an independent organisation for women working in the PR and communications industry with the aim of increasing the number and diversity of women in leadership roles.
This is done through inspiring women to reach their full potential; enabling women to build their personal networks and connections with other like-minded women; empowering women to achieve leadership through specific initiatives and events; and advocating for change where it is necessary for these goals to be achieved.
In 2018 Women in PR also set out a new mission to increase the number and diversity of women in leadership roles in PR and communications, through pillars of activity to inspire, connect, empower and advocate.
Full WPR Committee 2020
Bibi Hilton, President – Global Engagement Director, Unilever at Interpublic Group (IPG)
Sarah Samee, Vice President – Group Head of External Communications, Lloyd's Register
Davnet Doran, Treasurer – Head of Brand PR, Britvic PLC
Kate Clark, Membership Secretary – Founder & Director, KateClarkPR Ltd
Alison Hicks, Committee Secretary – Independent Consultant, Sixty Six Communications
Ngozi Emeagi, Events Secretary – Global PR Lead, MS Amlin
Ebony Gayle, Members Benefits Secretary – Founder, Ebony Gayle Communications
Anna Geffert, Sponsorship Secretary Mentoring Programme – Founder, Hera Communications Strategies
Ruth Allchurch, Mentoring Programme – UK Managing Director, WE Communications
Jane Fordham, Mentoring Programme – Founder, Jane Fordham Consulting
Addy Frederick, Mentoring Programme Lead – Group Communications Manager, Prudential PLC
Abbie Sampson, PR Campaign Strategy Lead – Director of External Affairs, Energy UK
Jo-Ann Robertson, Campaigns Lead – Partner and CEO, Ketchum London
Sneha Patel, Campaigns Lead – Senior Advisor for External Communications and International Affairs, Mayor of London Office
Natalie Trice, Social Media & Blog Editor – Founder and Independent Consultant, Natalie Trice Consultancy
Charlie Mulock, PR, Marketing & Social Media – Director, Hope & Glory PR
Laurian Hubbard, WPR Cymru Co-President – Brexit Campaign Lead, Cabinet Office
Rachel Moss, WPR Cymru Co-President – Head of Communications, Wales Audit Office